The Decorative Impulse took place at the Villa Terrace Decorative Art Museum from February 17th to May 20th, 2012. This exhibition included the work of Amelia Toelke, Jamie Bennett, Gésine Hackenberg, Anya Kivarkis, Jonathan Wahl, and Rory Hooper.   The Decorative Impulse was curated by Yevgeniya Kaganovich.
This exhibition explores the decorative impulse in contemporary artistic production: how and why artists employ, reference, and cite the decorative arts. The Villa Terrace Decorative Arts Museum houses an extensive collection of Cyril Colnik ironwork, block printed panoramic Zuber wall paper, various interior details, and a multitude of historical objects from the 15th to 18th century. The mansion – designed in the style of a 16th century Italian villa – is thus a perfect stage for dialogue between the artists' work, and the histories that it examines. New and old objects are installed throughout the museum's diverse spaces, intermingling traditional and contemporary work.
Amelia Toelke exaggerates the language of jewelry and decoration to a large scale, where inflated and silhouetted jewelry images become something in between decorative sculpture and interior detail. The resulting feedback loop between decoration and ornamentation is intended to evoke and examine the meaning invested in objects.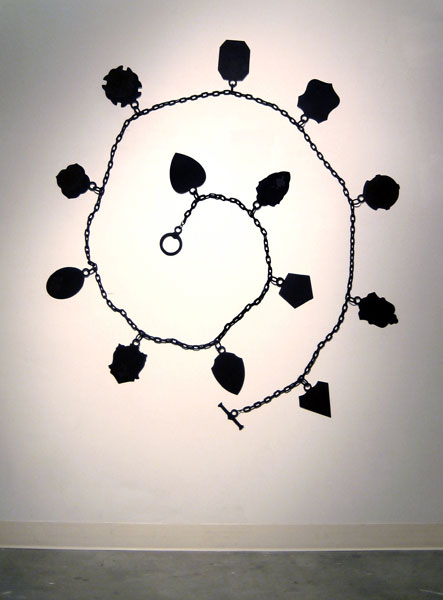 Amelia Toelke
The subject of Jamie Bennett's exquisite enamel jewelry is cultural representations of nature, a topic inherent to the decorative arts. His infinitely refined surfaces examine botanical images: nature as contained, domesticated and transformed by the decorative arts. By using enamel, an art material traditionally used to depict floral imagery, Bennett underscores the artifice of cultural representation and frames botanical image as jewel.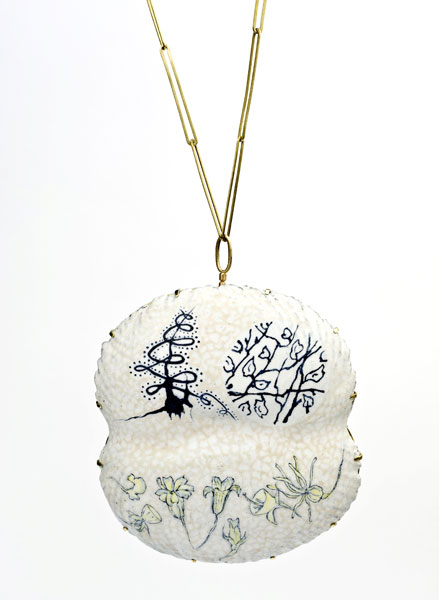 Jamie Bennett
In Gésine Hackenberg's work decorative objects such as ornate ceramic plates are the raw materials from which her jewelry is cut. The resulting pieces are somewhat lyrical, invested with the connotations of the original objects. They are also lighthearted and current, engaging such relevant topics as reuse and up-cycling. In this transformation of function and discourse, Hackenburg attempts to confuse jewelry and decoration, ornamentation and use.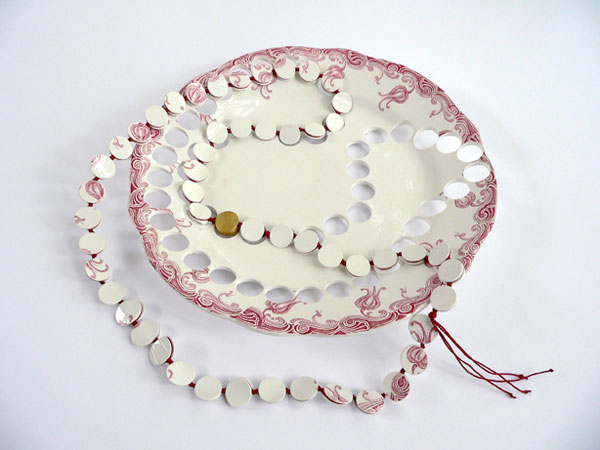 Gésine Hackenberg
For Anya Kivarkis, the decorative arts are an indicator of luxury, a device that initiates the conversation about opulence and excess. She sources two-dimensional images of jewelry from historical and contemporary moments when decadent ornamentation was, or is, celebrated. Kivarkis' jewelry has a new kind of physicality, the kind that's only possible by these objects being distilled out of images and made solid by a careful examination of vision and visuality, as well as history of objects of luxury and our conflicted relationship to them. Kivarkis' work is an effort to archive images in a physical form; her exploration of jewelry as archaeology is especially resonant within the walls of a decorative arts museum.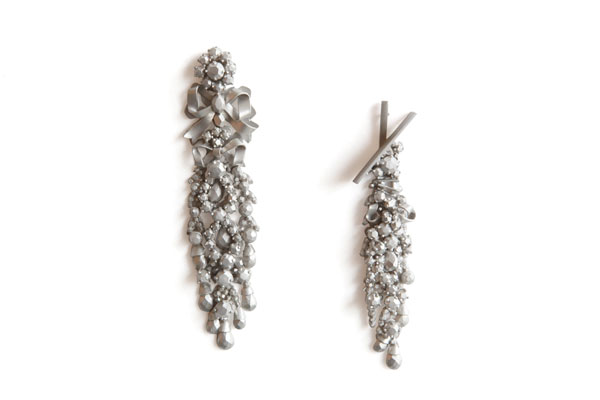 Anya Kivarkis
While Kivarkis deciphers object from image, Jonathan Wahl distills a fresh image from a historical object. He produces stunning large-scale hyper-real charcoal drawings of Victorian Jet jewelry which, when rendered as two-dimensional images on a much larger than original scale, lose their traditional use association, and evolve into affective and less specific constructions. New and compelling qualities emerge in this transformation: Wahl's works are minimal and exuberant, austere and lavish at the same time.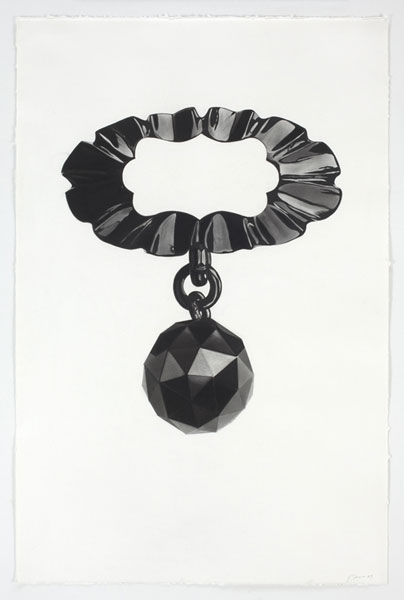 Jonathan Wahl
Rory Hooper relies on our familiarity with decorative, highly ornate jewelry. We recognize the crushed wafer-thin piece of metal as once valuable, desirable, and cherished, and see the repurposed jewelry, now in a puddle of resin, as abject. Hooper engages the capacity of decorative objects for signaling sentimentality, preciousness, tradition, heritage, and ritual. Drawing on these associations, he examines how decorative arts sometimes surface in our culture as kitsch. This strategy is how we get the joke: "Crushed Heart", "Crushed Star".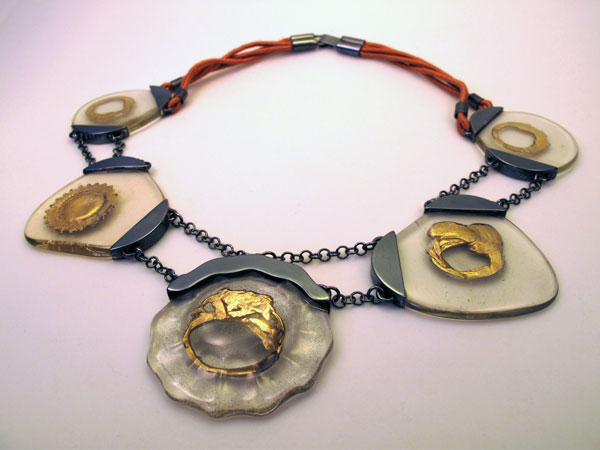 Rory Hooper
The Decorative Impulse both celebrates and intervenes in ornamentation as a rhetorical device. For these artists, the decorative object is the point of access, signal, and marker for examining material culture and our relationship to things in our lives. These makers explore the ways that the decorative arts are evident in our culture; in their work ornament becomes subject. The exhibition is about distilling decorative histories, synthesizing vibrant ideas with traditional forms, or, in Rory Hooper's words, making "new ideals out of old clichés".
View The Decorative Impulse Gallery Guide
Listen to The Decorative Impulse Lake Effect interview
Listen to The Decorative Impulse 88.9 interview
Read American Craft Council Decorative Impulse review